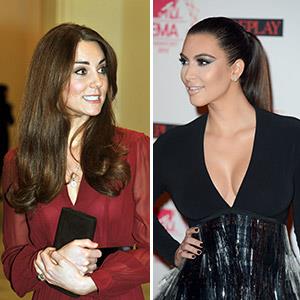 Paddy Power is offering odds of 66/1 that Kate and reality TV star Kim Kardashian will give birth on the same day.
A spokesman for the bookmakers said: "If both Kate and Kim do the double, the world's media will have a baby bonanza on their hands and a right royal fight will be had over those all-important first pictures.
Elsewhere, excitement amongst punters over the royal baby has left one bookmaker counting the cost.
William Hill has said it has taken a hit after St James's Palace confirmed today the Duke and Duchess of Cambridge's first child is due in July and that Kate is expecting twins.
July had been the even money favourite with the firm and its odds now suggest that the baby could be born in the third or fourth week of that month - both offered at 9/4.
William Hill spokesman Rupert Adams said: "The royal baby is starting to cost us a small fortune, we have already paid out on the year and now the month that the baby will be born.
"We can only hope that they don't have a baby with ginger hair as that would break the bank."
Punters are now likely to place a flurry of bets trying to guess which name William and Kate will choose for their baby.
Amongst the favourites with William Hill are George, Victoria and Diana, all 10/1, followed by Elizabeth 12/1 and Charles, John and Phillip, all 14/1.
Whichever name is chosen is likely to spark a new trend for that moniker.
The