scene of the clash.
TWO people are confirmed dead after a helicopter crashed near the Thames in central London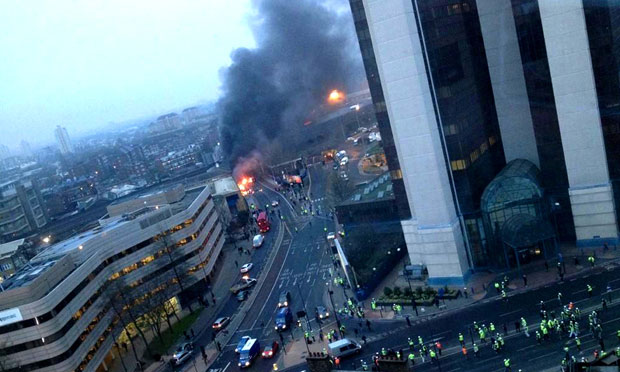 Two people died and nine others were injured when a helicopter crashed into a crane in central
London
and cartwheeled to the ground.
The aircraft exploded into flames after hitting the crane, which was on top of a tower block by the river Thames, and crashing into a street during rush hour. The helicopter crashed just south of the River Thames near the London Underground and mainline train station at Vauxhall
The Metropolitan police commissioner, Bernard Hogan-Howe, said there were 11 casualties, with two dead, one person critically ill, and others "less seriously injured".
A Met police spokesman confirmed that the helicopter had come down shortly after 8am on Wednesday, adding: "Two people have been confirmed dead at the scene. Two have been taken to south London hospital. We await a condition update."
London fire brigade said the crash happened near Wandsworth Road in south Lambeth.
Fire and rescue services said they were taking "lots of emergency calls" as witnesses described seeing grey smoke towering into the sky, close to Battersea bridge.
Many helicopters follow the Thames as a flight route through the city. This helicopter appeared to be flying further south than usual, Whipps said.
No cause has yet been given for the crash but visibility was poor in London on Wednesday morning, with fog and a very low cloud ceiling.
Chris Yates, an aviation security expert, told CNN it was likely there would be questions about whether the helicopter should have been flying in these conditions.
Under safety regulations, tall buildings must have navigation lights on top to make them apparent to low flying aircraft, he said.
Helicopters are not supposed to fly within 500 feet of tall structures in central London, he said.
The London Heliport is nearby on the banks of the Thames.
The incident is likely to cause major disruption for many people on their way to work.
Vauxhall, with a rail station, Underground station and large bus station is an important transit point for those traveling from the south to other parts of London.
South West Trains said passengers should take alternative routes.
"Police have cordoned off a significant area this includes Vauxhall Rail, Bus and Underground stations. Trains are still running into and out of Waterloo but will not stop at Vauxhall station to set down or pick up passengers," its website said.
The Vauxhall area has been earmarked as a major development site